Echolink is a new form of communication that represents a revolution of the amateur radio concept. Thanks to the union of Voice over IP (VoIP) and radio technologies, it is possible to communicate anywhere in the world without depending on RF propagation. A radio amateur in another part of the world can now communicate with the same audio quality as that of stations operating in the same city.

There are now more than 100,000 radio amateurs trying out this revolution. An average of 2,000 stations are available for communication every day. You can reach virtually every country in the world.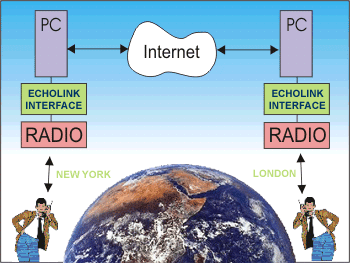 The Echolink interface allows you and your colleagues to access the system from VHF/UHF/HF mobile, portable, or base station. It can work either in simplex or in repeater mode.

Extremely simple to install. It requires only external connections between radio and computer. In addition, your can have total remote control of the system thru DTMF commands (software decoder).




Technical Characteristics
It accepts DTMF commands for remote-control connections (Via software)

Simplex or repeater operation

It also works with I-Link and eQSO software

Power/TX LED indicator

Voice station identifier at connection and disconnection (Via software)

Full compatibility with all Windows versions

Only requires external connection between radio and sound card

No power supply needed

One year Warranty


Documentation
Setup and Operation Manual (355Kb)


Note: PDF (Portable Document Format) files are created by Adobe Acrobat software and can only be viewed with Adobe Acrobat Reader. If you do not already have this viewer configured on a local drive, you may download it at no cost here.



Start using Echolink today! Get Echolink software here:

Echolink Software